The journey to CWNE is not a straight path. It takes preparation, determination, and patience with a lot of studying.
In 2018 I decided to tackle CWNP CWNE journey. I set myself a reasonable time scale to achieve my goal which was to submit CWNE application before Nov 2019. While the certifications were not required for my job by my employer. I wanted to dive deep into WiFi for myself and to have the credibility of a CWNE.
Its always great to motivation to know other CWNE's and listen to their journey. I began to follow other CWNE's such as Mr Keith Parsons, Tom Carpenter, Peter Mackenzie  and started to read other CWNE's blogs.
I would also like to thank Nigel Bowden who invited me to UK Wi-Fi experts Slack group which gave me extra motivation to accelerate and complete my own journey. Initially it looked like a mountain front of me to go through all the exams, write essays and get endorsements etc to complete CWNE requirements.  Sooner I passed my CWNA exam and started to read and follow other CWNE's on social media, it felt like this target is achievable.
Best part of CWNP CWNE journey is Wi-Fi community. I was able to speak and contact few CWNE's and other Wi-Fi experts and they shared their knowledge which certainly helped me to get closer to my target. I am still on my journey and its getting closer and closer as I am preparing my CWNE application.
My CWNE® Journey Timeline: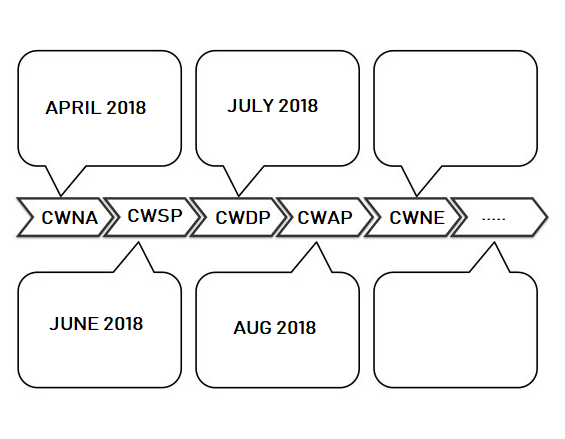 CWNE journey is combination of experience and knowledge. In order to qualify to submit CWNE application you must demonstrate the knowledge by undergoing CWNP program. I have shared my experience and how I tackle all CWNP exams in  CWNP Exams Preparation section.
Few application tips: If you are pursuing CWNE award then you will have to go through its CWNE application requirements to understand that what is expected from you as a an expert from CWNP.
Start process well ahead as same time as you are going through all of your exams.
Exam preparation should be structured and I have written in detail in exam preparation posts.
Understand 802.11 protocol and take your time and slowly digest all the information.
Start writing your WiFi blog sooner you know that this is the path you taking. This will help you to stay up to date with new information and a good way to learn.
Get your tools thats the only way to learn and apply your skills. I had to buy macbook just for packet capture because my work does not provide us with capture tool or Macbook. Buy your access points for testing or even for packet captures as its easy and cheap to buy from Ebay.
While you are working and during exams preparation think about essays and chose your topics. Because you can save data for your essay such as any troubleshooting or design or what ever topic you have chosen.
WiFi community specially CWNP is very friendly. Its good to link with them on social media such as twitter, Linkden or slack.
Endorsers know about your work. This could be your colleague or manager. An endorser does not need to be a CWNE. You can request a CWNE or anyone else to review your essays.