All WiFi professional agrees on the best practice to limit the number of SSIDs which can cause massive overhead on the WLAN network.
I have experience working specially in one company where common practice was to create SSID for every office in a multitenant site to provide different VLANs. It took me a while to convince the management that it's a bad practice and we should change this practice.
They eventually listened to me and it helped to achieve better performance. Probably all Wireless professionals would know SSIDs overhead calculator by revolution Wi-Fi which can found here. You can also download app from app store or google play SSID Calc.
So I decided to test the calculator by adding the SSIDs and checking that how it may effect channel utilisation where the AP is operating.
I configured 1 AP on 5Ghz channel with 2 SSIDS and later tested with 10 SSIDs. Then I added 2nd AP and configured on the same channel.
I have used following tools:
InSSIDer home addition
Ekahau Side kick spectrum analyser
Aerohive NG
First Image showing from desktop version of SSID calculator where I have changed Data rate to 802.11a 6Mbps. According to calculator if we are using 802.11a basic rate 2 SSIDs will cause overhead of 1.12% which means we should also see this effect on channel utilisation. 
2. Image below showing AP on channel 100 with no CCI or ACI which you can read on the screenshot as well. So we have 2 SSIDs on channel 100.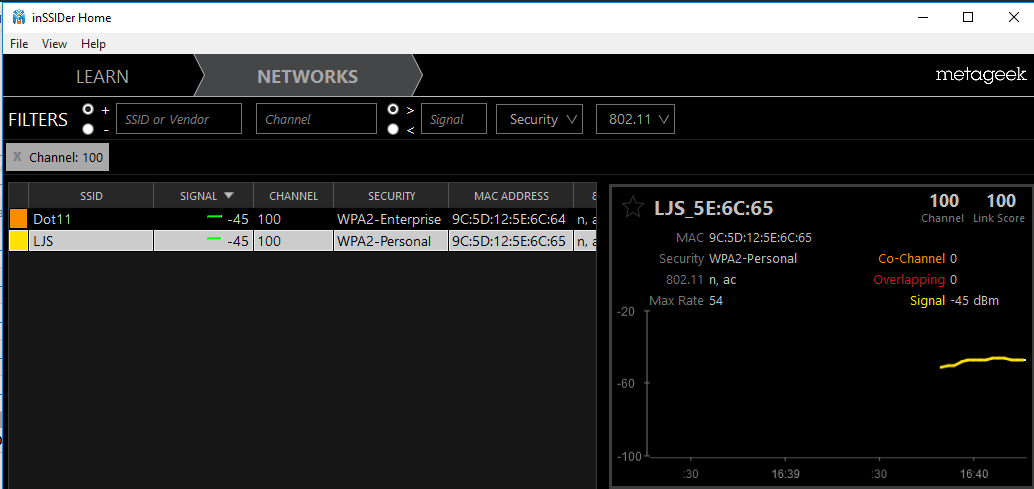 3. Airtime utilisation can be seen from Ekahau spectrum analyser. If you look at channel 100.
You can see utilisation is 1% and now if you refer back to calculator. Can you see what is utilisation for 2 SSIDs? Yes, it is showing 1.12% which is about right in our test as well.
Ok so far so good, now what if I add 10 SSIDs to this AP and find out how channel utilisation going to change.
4. I have added 10 SSIDs to the AP and you can see airtime utilisation going up. Utilisation on channel 100 showing in the image below is 8%. Now refer to the calculator image and you will see 5.62% which is again almost correct because there was bit of data going on as well which pushed utilisation to 8% very quickly.
Image below is from Aerohive access point and utilisation reading is nearly the same as showing from spectrum analyser.
5. Now its time to add another AP to the game and see how this will change channel utilisation. So, I have moved one of the AP which is on different channel to channel 100 . Other AP had few SSIDs already which pushed our SSIDs number to 14 as shown in the image below.
So it will be interesting to see how it will effect channel utilisation.

6. Now our utilisation for channel 100 is shifted to 11% and keep in mind there is no or very limited data on the channel and utilisation is already going up.Now we can see that with basic data rate  6Mbps and adding few SSIDS and almost no data flowing and channel utilisation is going up.
So other hand most of the deployment where basic data rate is not disabled.
I thought to share mobile app screen shot as well. If your basic rate as 1mbps is enabled and you have 11 SSIDs on 1 channel and channel is being shared between APs then channel utilisation is going to be around 70% as well and still we are not pushing the data.