Wireless Global Congress:
WIFI revolution where every operator is chipping in. 
WBA is the leading event on next gen service opportunities for wireless carriers and connected cities ecosystems. WBA works closely with mobile networks and broadband service providers. Wireless broadband alliance resolve business issues and enable collaborative opportunities for service providers, enterprises and cities, that enable them to enhance the customer experience on Wi-Fi and significant adjacent technologies.

Why WIFI events are important:
Question is why should we bother about these events and why we should attend these events. These events bring together hundreds of the best minds in WLAN. Whether you are just "nominated" as the Wi-Fi guy in your company or you run a multi-million business, these conferences give you an opportunity to learn about the present and future of the industry. These events bring together a few days of "going deep" on all things Wi-Fi.
Through these events, you can network with industry leaders, entrepreneurs, innovators, and experts from across the global Wi-Fi industry. I believe we should follow these events and try to attend at least once a year one of these events to stay up to date and network with likeminded people.
There are a few good events you can follow:
Highlights:
so let's get back to the event we started to talk about Wireless global congress at Frankfurt Germany from WBA (Wireless broadband alliance). This event ran for 4 days, the first 2 days were open to everyone where you can just buy the ticket and attend the event and other 2 days dedicated to WBA members only where WBA and its members will deep dive into different topics discussed in the first 2 days.
Throughout the day you have presentations, Panel discussions, Q&A, tea breaks, and lunch breaks which give you the opportunity to network with other professionals, talk to different companies presenting their products and solutions on the stands.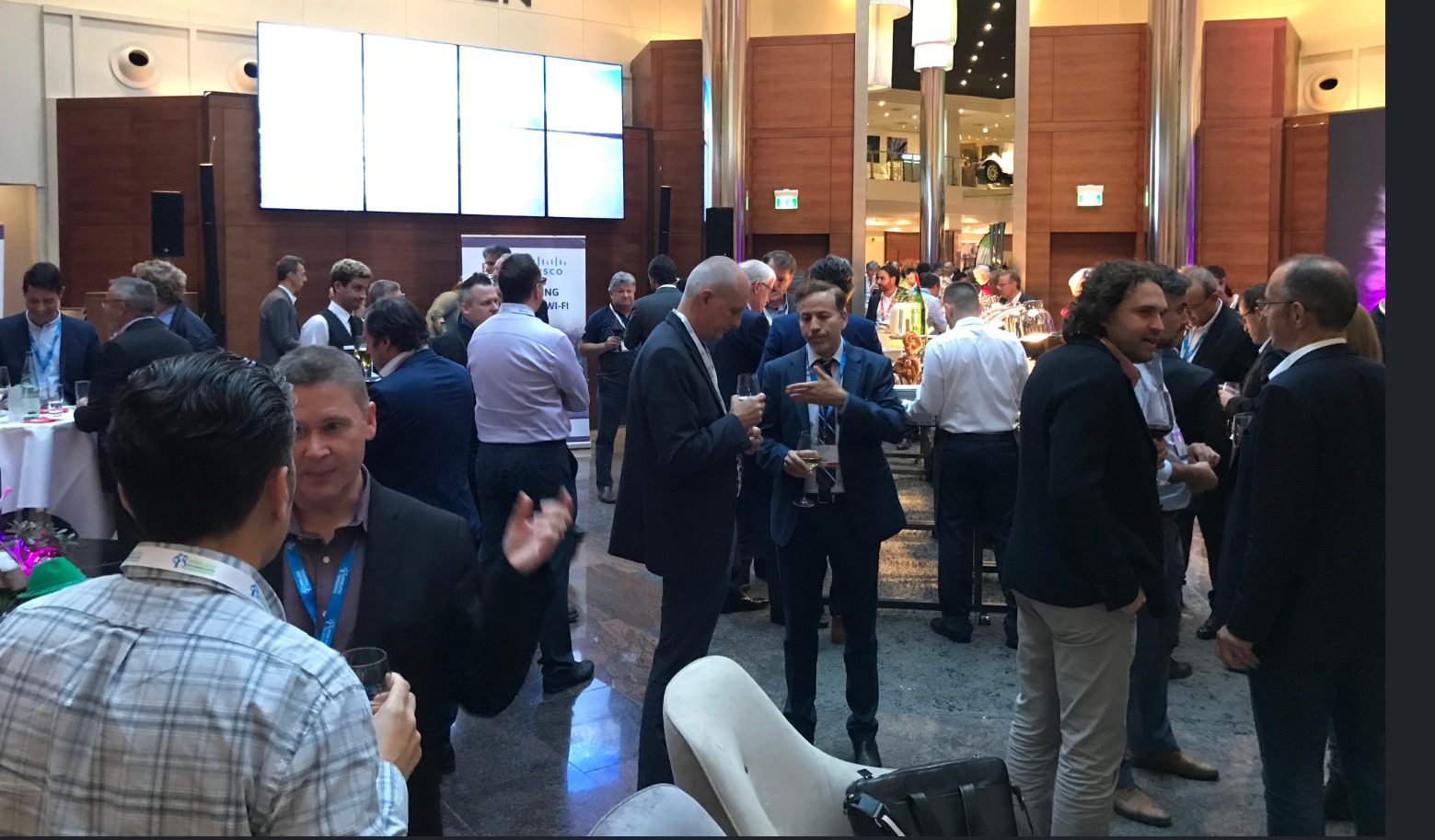 Exhibitors:
There were a number of exhibitors on the event which gave me and other attendees the opportunity to experience and discuss the services they provide.
Exhibitors :
Accuris Networks
Airties
Aprecomm
Boingo Wireless
Carnegie Technologies
Cisco (Open roaming)
Cognitive system Corp
Deutsche TeleKom (T mobiles)
Galgus
Global reach Technology
 Intel Corporation
KT
Mobolize
Purple
Semtech
Veniam
Wiconnect
What was on the Menu:
There were a number of topics presented by different speakers, some seem to be sales pitches and some topics were very interesting and informative. So if I summarise there were few very important topics that were repeated again and again from different MNO,s and service providers. It gave me an indication that how things will unfold in the near future. It also gave me an understanding that as a Wireless Engineer what new skills I will have to adapt, It was a good platform for service providers as well to understand what technologies and services they should focus on in near future to stay competitive.
The picture below was taken from Tmobile presentation and it can be seen clearly focus is on Hotspot 2.0, roaming, IoT and inflight WIFI to provide better service to the customers.
Important topics:
There were many topics presented by the speakers but I believe few topics were very important which will define WIFI industry in the coming few years.
WIFI 6 (No surprise)
5G (No surprise)
Hotspot2.0 (WiFI6 & 5G hand in hand)
IoT
Smart cities
AI, building smart WIFI network
inflight WIFI
I have written already regarding WIFI 6 and 5G in a previous post. My last post regarding WIFI6 and 5G was purely based on my opinion without listening to any Mobile network operator. I mentioned in the post that WIFI6 and 5G will complement each other instead of competing. The main reasons are quite obvious such as high cost, lack of 5G health and safety testing, gov and local authorities' laws,  and behavior of RF. First time, in any event, I was able to listen to Mobile networks and none of them mentioned or showed any intention that they are willing to compete against WIFI. In fact, mobile operators are finding ways to benefit from WIFI6 and Hotspot 2.0 release 3. MNO's are trying to find ways to use hotspot 2.0 for seamless roaming and partnerships with Hotspot 2.0 providers in the same or different countries the same way as cellular roaming works. It only means more hotspot 2.0 deployments, the need for better WIFI design, deployments, and wireless network management.
After WIFI6 and 5G next hot topic was hotspot 2.0 because the cellular network can benefit from hotspot 2.0 to offload devices to the WIFI networks providing hotspot 2.0.  Nowadays when you go to events, shopping malls, buildings, and other public places WIFI is available but it is very inconvenient for the people to use it. A lot of time on the same locations you have limited mobile coverage or you would like to connect to WIFI but you do not trust available WIFI or WIFI service is not good enough or it's just too complicated to connect to.
How about connecting to these hotspots without doing anything?. What if your mobile network provides you the service to go to these events and connect to available WIFI securely without having to click on SSID and type in the password or fill long forms.
Another scenario when you land to a different country you are automatically connected to a local cellular network and informed whether you can use your voice minutes, data for free or there is a charge. Wireless onboarding is the leading pain point for the customers and mobile networks are now willing to address this issue by investing more resources on partnerships and wireless network infrastructure.
Smart Cities & IoT:
Another 2 very interesting topics for the wireless world are how the internet of things (IoT) and the new approach of smart cities going to change things. I have put these 2 topics together because these 2 concepts will work together to achieve a smart city concept. A smart city is an urban area that uses different types of IoT sensors to collect, analyze and manage resources in order to provide better public services.
Question is what exactly the user wants?
In today's modern world a user wants to have quick seamless connectivity, easy access to public information and services.
Smart cities enable you to managed things like:
open data/ sharing of data
citizen engagement
Enhanced services for the citizens
I believe a few technologies are going to be very critical to achieve smart cities such as:
5G
WIFI6 and WIFI7 in future
IoT
IPV6
AI and Wireless Network management:
From the discussion above we can say that WiFi6, Hotsopt2.0, roaming, IoT will bring a lot of WiFi and a lot more data to process. Nowadays to manage the WIFI network is a pain and only WIFI experts can diagnose and manage the WIFI network. In the future, it is only going to be complicated due to the amount of data and devices will be connected to WIFI.
We are expecting to have 12 billion wireless devices by 2012, 49 exabytes of cellular data will be offloaded to WIFI and 542M hotspots by 2021. It just gives you an idea that how many wireless networks will be deployed in the coming few years.
in the future, we will not only need better WIFI designs and deployments but equally important to have better and smarter WIFI management. Vendors are adopting new ways of solving WIFI issues with the help of big data collection and the use of machine learning and artificial intelligence. With the help of machine learning and AI, Wireless LAN will make Wi-Fi predictable, reliable and measurable by providing unprecedented visibility into the user experience and by replacing time-consuming manual IT tasks with proactive automation.
In-Flight WIFI:
There are over 80 airlines offering in-flight Wi-Fi worldwide, and Wi-Fi will further spread its wings in the years to come. With the increased demand for connectivity amongst passengers, in-flight connectivity, particularly in the form of Wi-Fi, is becoming increasingly important. The WBA's In-Flight Connectivity project is the first vertical focus in the Wi-Fi Deployment Guidelines series.
This is one of the areas where mobile networks will be interested to invest in because with the help of hotspot2.0 mobile networks and airlines can work together to give better service to their customers in the air. In-Flight WIFI service is very poor and expensive at the moment but I believe in the future it will change how we use WIFI in-flight.
This service can provide folwing benefits:
satisfied customers for airlines and MNO's
in-flight shopping from the airline
in-flight hotel and car bookings
in-flight entertainment
better communication
Summary:
WIFI is not going to die, at least not due to 5G.