In the post I would like to go through CWDP exam preparation. CWDP is one of the exam where you need to not only read the book and understand the topics but real life experience is very necessary. You will come across few questions where real life design and deployment knowledge will be tested.
Like any other exams you must be aware of exam objectives, topics, chapters included and how much different topics or chapter scores in the exam. Passing marks for CWNP exams is 70% in 90 minuets. Like other CWNP exams this exam also consists of 60 questions and 70% passing rate means you will have answer at least 42 questions correctly.
An important part of CWDP, and also in the real world, is being able to gather requirements from the end user. Knowing what the end users need to do on Wi-Fi will help you build a successful network. Its also very important that you understand customers business goal, reason for that is alot of time few customers will not be able to tell you their requirement but once network is deployed they will start asking for what you never design for.
Some of the aspects of gathering requirements are straight forward, such as finding out where coverage is needed, what applications are going to be used, is VoIP going to be used, etc.
Knowing what type of devices are going to be used is also important. This plays a role into capacity planning with the applications that will be used. Other areas to consider are designs around regulatory requirements.
Its important you understand the approach taught my CWDP for designing a WLAN network.
Define the specification of WLAN
Design the WLAN
Deploy the WLAN
Validate and optimise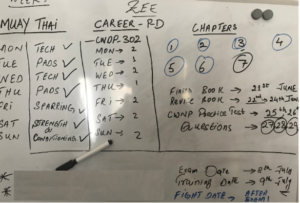 CWDP-302 study guide only consisted of 7 chapters which has been changed now to CWDP-303. It took me around 3 weeks to finish the book. It was quick reading because I was familiar with the topics and I was using same approach from years to design and deploy WLAN networks.
Exam preparation approach was same as my other CWNP exams. Target was set, monitored and achieved as shown in white board. Designing tools such as airmagnet, Ekahau etc can be very handy to do predictive designs practice as well as passive surveys to have better understanding of design process.
If any question regarding any exam/topic get in touch as CWNP community extremely energetic and helpful.